Let's face it, you want your wedding to be a memorable experience for yourself and your guests, otherwise why would you choose to invite them in the first place. One of the hottest reception items for 2011 is the addition of a photobooth at your reception. The big problem with these photobooths is that they seems so "cheesy" and very "Suburban Mall Kiosky". These wedding kiosks are always overpriced, cramped and the memories from them in the form of 2×8 slimline prints are so generic. Also, these kiosks can only shot heads shots. Why would anyone settle for this kind of boring memory?
Photobooth Kiosks Done Wrong

How is this image anyone's idea of great reception memory? Yet, this is what these mall kiosk vendors are offering our clients. I might as well go to a bar and take this picture with a disposable camera, because that is how much it is worth.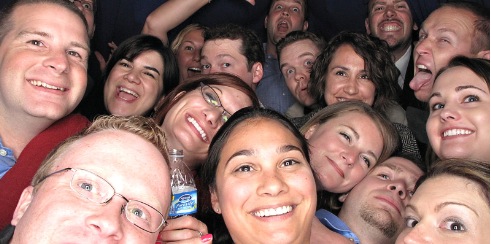 Photobooths Done Right
For now we are going to continue calling it "Photobooth", but rest assured, this is nothing like you've ever seen before. We've done extensive market analysis of the local reception photo kiosk vendors and decided to raise the standard about 10 notches. Our Photobooths are  guaranteed to be a memorable experience for you and your guests for years to come. Here is why our photobooths are the new wedding reception standard: