Is there a better way to end the year than with being selected as a winner of the Knot 2011 Best of Weddings? The answer was a resounding NO for me, until today when I received the following review on WeddingWire from Chris and Katie, our November 20, 2010 couple. All I can say is that the review made my day, week, month, and year. What makes it even more fantastic, is that I didn't request that they leave a review. It feels great that my clients are moved so much by our service that they want to sing our praises.
I also wanted to acknowledge the great help that I received this year from my Studio's photographers Niki and Joe and cinematographer Ken. Here we are wearing our traditional wedding day black back on November 20th. Without their great help and dedication, my success would not have been possible.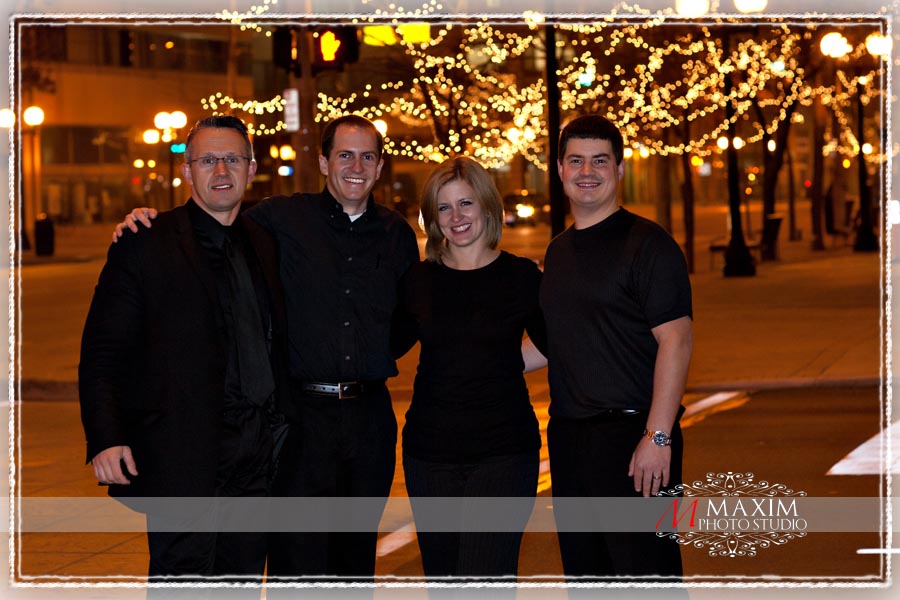 Here is the full review and a link to all of my reviews on Wedding Wire. Thanks Chris, Katie, and everyone.
———-
Max was fantastic to work with! I'd give him 5+ stars!!!
Ironically, my first choice for photographer was snatched out from under us (the day we called to book after our meeting, someone else had just booked our date without having a meeting…), and I was very disappointed. My now-husband was particularly picky when I showed him examples of photographers I found. He didn't like ANY of them! One he did like from Cincinnati refused to meet us half-way between Cinci and Dayton. My husband and I felt that if someone couldn't bother to meet us 30 minutes away to try to earn our business, what kind of service would he give us on our wedding day? If we are willing to pay thousands of dollars for one day, we felt like going a little bit out of his way wasn't much to ask.
So…..we came across Max!
My mom always said that things happen for a reason…well, I'm so happy to say that I am glad my first photographer was unavailable!
Max met us at our convenience and even offered to meet us near our home (even though we weren't too far from him). He emailed almost immediately in response to my initial inquiry. He was very timely, great at following up/through, did what he said he would do and when he said he would do it, and was extremely professional and straightforward with us, which was very refreshing. Our big thing was that we wanted our image files. He gives them to clients in their package, and they are in a larger format than most photographers.
Max has many packages set up and was able to explain the advantages of each. For our package an engagement session was included, as well as a reception slide show and live photo booth. Both were HUGE hits at our reception!
We also wanted to have our pictures taken at a different location before the ceremony and he was totally fine with that. Very flexible and got many pictures in a rather different setting.
We also had him video our wedding…I had 2 friends tell me that they regretted not videoing their wedding. I didn't think one way or another about it….until after I saw our video!!! OMG! I cried when I watched it, it was soooo incredible!!!!!!!!!!!!!!!
The images were uploaded to our secure site within a few days of our wedding and looked great! Within a couple of weeks of our wedding Max dropped off our image and video DVDs. We haven't ordered prints/albums yet, but we are sure they will be superb like everything else.
Max was refreshing to work with and has a good sense of humor and offers excellent service and value. Some photographers seemed full of themselves and do the same things everyone else does, including charging outrageous fees for each portion of their services. Max is a breath of fresh air–he does a super job and delivers super quality and goes all out–we could tell he was there to make sure we had great images to remember our day. (Also, we could hardly tell they were around during the ceremony and reception–but they got pictures of almost everything!)
A++++++++!!!!!!!!!!!!!
—————————–
Link to all 29 Maxim Photo Studio Wedding Wire reviews